Art Holiday
skill, inspiration, passion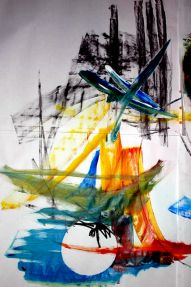 The Art Studio is truly an exciting creative art holiday location. Both beginners and those who would like to develop their skills further will be embarking on an inspirational journey through the picturesque Skyros village, the beach, its ancient sites, the colourful countryside and also their own inner landscapes. And all this in the company of very friendly people ready to share experiences, views and ideas and with the help of our highly qualified and professional teachers who will offer support both within the group and individually. It is like a dream come true.
Skyros Village offers a visual environment of inspiring beauty, and a huge variety of subject matter to explore, from expansive panoramas of sea and sky to intimate winding lanes and courtyards; and from the activity of the village and the beach to the tiny worlds of flowers, foliage and insects.
Our creative art holidays are suitable for all levels, from the absolute beginner to the more experienced artist. Materials will be provided, but art ourse participants may want to bring with them sketchbooks, pencils and a sharpener, mixing palette, brushes, their preferred paints, canvases or paper and their digital camera. Do not forget an old shirt or apron plus sturdy shoes, hat and plenty of suntan lotion!

'The best arts and crafts holidays. For creative courses abroad, consider one of the centres offered by Skyros. Perhaps most suitable is the Atsitsa Bay centre on the Greek island of Skyros, where over a 10-day stay you can try yoga, sailing, life-coaching, music, sketching, painting, singing, dancing and various drop-in activities.' Sophie Butler, The Telegraph