The Skyros Blog
reflect, comment, share
Yoga, Meditation & Creative Movement with Eleonora Ramsby Herrera
Thursday 30th May 2019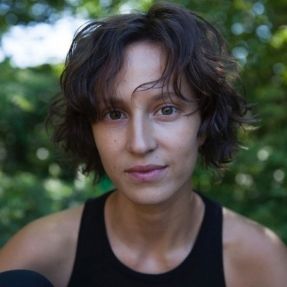 Yoga, Meditation & Creative Movement with Eleonora Ramsby Herrera
Morning flow – open for all levels
A gentle slow-paced vinyasa yoga class that aims to prepare you for your day. The session links breath, movement and meditation into a seamless creative flow but this is not your typical vinyasa class. Instead, you will take enough time necessary to explore the deeper work of each posture without rushing the movement and the breath; keeping a balanced pace between stillness and movement, strength and ease, activity and rest. The class concentrates on aligning the bones and working the muscles efficiently without forcing your body into "the right shape". Instead you are encouraged to explore traditional yoga postures in an experiential and non-traditional way at a pace and level that suits you.
Creative movement; a fusion of yoga, meditation and creative practices
This 4-day course weaves together a variety of disciplines with the aim to spark your imagination, release creative blocks and unnecessary tension residing in your body, mind and heart. In a safe and supportive environment, you'll get to expand your perspective and hearts desires while simultaneously explore how to undo boundaries that no longer serves you and empower you to set new ones that are in alignment with your higher self. The course includes practices such as yoga, meditation, pranayama, voice work, storytelling, creative painting- writing and movement, all brought together to form a multidimensional web that invites you to explore, experiment and play.
Click here for more information >>>
About Eleonora Ramsby Herrera
Eleonora has taught yoga since 2008. She is a Senior Yoga Teacher with Yoga Alliance Professionals and an accredited Yoga Teacher Training director – developing and running 200-hour teacher trainings in both London, Stockholm and Lisbon.
Additionally, Eleonora offers CPD (Continuous Professional Development) courses in teacher development and teacher mentoring for professional yoga teachers. She's a regular guest teacher offering workshops and public classes at a variety of studios, one of them being Triyoga, Europe's leading yoga centre in London.
Between 2015-2016 she co-founded and co-managed the current London based independent yoga studio One Yoga London. She then decided to shift gears and continue her teaching path on a more independent and freelance basis alongside her academic studies. Eleonora recently joined yogobe's team of teachers, Scandinavia's largest online yoga platform where she offers restorative yoga, pranayama and meditation sessions.
Eleonora holds a BA (Hons) in Contemporary Dance from London Contemporary Dance School and a Masters in Effective Learning and Teaching from the Institute of Education, University College of London (UCL). She continues her depth of study through her PhD studies at The Department of Education, Society and Practice at the Institute of Education UCL.
Click here for more information >>>

About Atsitsa Bay
Eleonora's courses are held in Atsitsa Bay - a holistic holiday centre set in a stunning, natural location, right on the bay and surrounded by pine forest. With a wide range of courses and activities and an outstanding team of facilitators, it's the perfect place to be inspired and try something new.
What's included?
More than three courses per day over four to five days each week
An unrivalled and vibrant community atmosphere
Fun evening activities and events
Three delicious Mediterranean meals each day
Twin shared rustic accommodation in Atsitsa's gardens (upgrades available)
Click here for more information or to book online >>>

About The Skyros Centre
Eleonora's courses are held at The Skyros Centre - the original Skyros holiday, the perfect creative, wellness adult-only retreat. Meet like-minded new friends and explore your potential with inspirational, caring facilitators who will support you. Enjoy laid-back Greek island life. Do as much or as little as you choose.
What's included?
Choose your courses on arrival or express your preference when you book
In-depth, mid-morning options include personal development, art and painting courses and writing courses
Enjoy early morning and late afternoon yoga and music/singing drop-ins
Stay in traditional Skyrian rooms close to to the centre or stay by the sea - your choice (upgrades available)