The Skyros Blog
reflect, comment, share
Thinking of Joining a Writing Course This Summer?
Monday 20th May 2019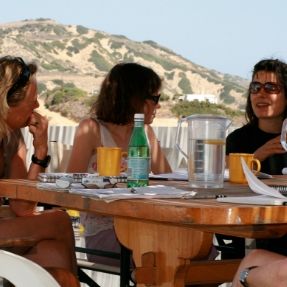 Thinking of Joining a Writing Course This Summer?
Award-winning author Lisa O'Donnell describes her experience of teaching on the Greek island of Skyros each summer.
Lisa O'Donnell, author of The Death of Bees and Closed Doors, runs her course 'The Core of Good Fiction' in Greece at the Atsitsa Bay Centre from 18-31 August and 1-8 September. Participants on Lisa's courses come from all over the world and take part for many different reasons. Some want to write a novel, some just want to know what writing is all about. At the end of the course participants are often inspired to write a book, short story or poems and use their newly developed skills at the cabaret held at the end of holiday to an appreciative audience.
One of Lisa's favourite parts of running writing courses with Skyros is seeing the difference in her participants from day one to the end of the holiday "The person they are on the first day is never the person they become on the last day".
---
If you'd like to join Lisa on her supportive, inspiring course you can find more information and book online here >>> or give us a call on 01983 86 55 66.