The Skyros Blog
reflect, comment, share
freedomDANCE with Alex Svoboda
Thursday 30th May 2019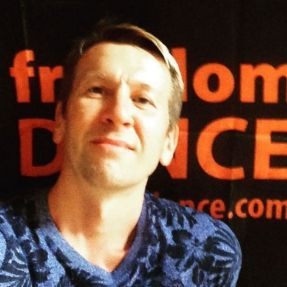 freedomDANCE with Alex Svoboda
Join this class to have a taste of freedom and take that sensation into your life!
Freedom to move your body without learned steps or routines;
Freedom to let go of comparisons, judgments and criticisms;
Freedom to be yourself and connect with others.
Each time, your dance is your unique experience. And yet, it is done in great company. You get lots of permission to do what's true for you and enough support be reassured and relaxed.
Our class is a shared journey through a dance cycle:
First, we open our bodies to move with breath, weight, space and each other;
Then, we let our dance develop and transform, releasing old patterns and finding new ways to move and relate to ourselves and others;
Finally, there is time to integrate our experience through sharing our dance and being present to our own sensations and our connection with the rest of the room.
There are exercises and guidance to encourage your curiosity and learning; there is also space to dance without any instructions, to process what you have learnt… and just for the fun of it! There is great music, that is specially selected for each session, to serve us throughout the class.
Click here for more details >>>
About Alex Svoboda
The liberating power of dance seems to flow naturally out of Alex and spread to those who come to his classes.
Alex has lived in three countries (Russia, US and the UK), studied at five universities and colleges, received his Ph.D., worked as an analyst and manager at world's leading organisations, including the legendary management consultancy McKinsey & Company. He has trained as a 5Rhythms teacher directly with Gabrielle Roth, certified as Open Floor teacher and has been studying with Anna Halprin. He is a University instructor and an experienced corporate training facilitator.
Alex offers a method of dance meditation that is highly accessible, simple and at the same time deep and potentially transformational. He teaches regularly in London, Cambridge, Dubai, Moscow, St Petersburg, Kiev and other cities. He has founded freedomDANCE, a school of dance meditation and conscious movement with over 30 teachers and trainees working in over 30 different cities.
Alex explains 'Each of our classes is an opportunity to have a taste of freedom. What kind of freedom? Freedom to breathe and move. Freedom to notice and accept what is happening inside ourselves and around us. Freedom to open up to something bigger, something that transcends our everyday ideas and calculations. Freedom to be yourself and share yourself with others…'
And here is what the dancers say about Alex and his work in their unsolicited messages:
'You have real, soft, palpable presence. Not pushing, not holding back, sometimes waiting, sometimes offering. When you speak, I listen. It's always, always worth it.' - Sue Rickards, London
'[Your workshop] …has spiralled my life and unfolded so many changes in my inner self, outer life, given me so much more clarity, joy, focus, creativity and integrity. Your gift truly keeps on giving!' - Rana Allamutdin, Bahrain
'I felt stretched in a really beautiful way- it got me dancing outside of my easy routine ways of dancing.' - Julian Russell, London
'Alex… is magical - catch him if you can!' - Louise de Caux, Cambridge
'Your workshop was certainly a marathon of the heart and soul!' - Justin Romain Hoffman, London
'I left [the workshop] feeling more fully human' Di Hinds-Williamson, Cambridge
'One of the best demonstrations I've seen in a very long time.' – Daniel Kinsley, London
'Alex guided us with grace, good humour and amazing music' – Mark, London
Click here for more details >>>

About Atsitsa Bay
Alex's courses are held in Atsitsa Bay - a holistic holiday centre set in a stunning, natural location, right on the bay and surrounded by pine forest. With a wide range of courses and activities and an outstanding team of facilitators, it's the perfect place to be inspired and try something new.
What's included?
More than three courses per day over four to five days each week
An unrivalled and vibrant community atmosphere
Fun evening activities and events
Three delicious Mediterranean meals each day
Twin shared rustic accommodation in Atsitsa's gardens (upgrades available)
Click here for more details or to book online >>>