Palamari
A settlement almost as old as time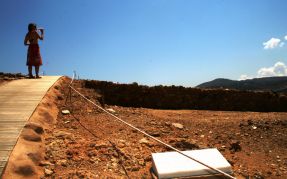 Palamari, close to Atsitsa and about thirteen klm from Skyros village, is an Early and Middle Bronze period settlement (2500 - 1800) connected to various parts of Greece, including the Cyclades, the islands of the North East Aegean and the mainland.
Its extensive defences – front walls, trenches and a stone barrier – show much wider sea connections as this kind of fortifications originate in Syria and Palestine. Fortifications of this style began appearing in regions of the Aegean in around 2300 BC.
Research and excavations carried out have led to the discovery of a well-organised city, with a port, roads and tall and impressive buildings. Hearths, ovens and formatted floors have been discovered in several rooms located within the ruins of the buildings.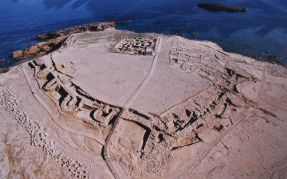 Many other interesting artifacts such as stone tools and appliances, a variety of vessels and vases, as well as tools made from bone have also been found and are exhibited at the island's Archaeological Museum. The two rooms of the museum contain finds from sites on the island dating from the Early Hellenic period (2.800-1.900 BC) to Roman times.
Skyros was inhabited from the Neolithic period (5.500-2.800 BC) and flourished during the early Bronze Age (2.800-1.900 BC). It reached the height of its prosperity during the Mycenaean period (1.650-1.100 BC). Skyros was also an important island during the Geometric and Archaic periods.
Visitors can wander around Palamari and see the various paths and structures that have been unearthed. The Palamari beach right next to the site is there for a refreshing swim.