The Skyros Blog
reflect, comment, share
Writing Tips with Simon Booker
Thursday 1st August 2019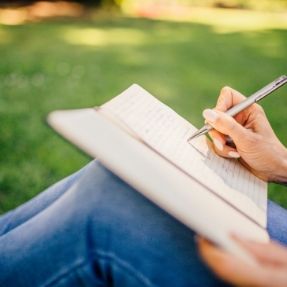 Writing Tips with Simon Booker
I'm SO looking forward to hosting my first-ever Skyros Centre writing holiday from August 11-18. It'll be entertaining, informative and fun. Whatever genre interests you – crime, romance, sci-fi, thriller, literary fiction, historical fiction …etc – many of the same principles apply when creating a piece of work that makes the reader want to turn the page – the most important consideration when trying to hook agents and publishers. (Please note: we'll be talking about 'principles', not 'rules'. This is a writing holiday, not a writing boot camp!)
A taster of some of the writing tips on the menu.
The average novel is somewhere between 80,000 and 90,000 words, say 320–400 pages. Sounds like a lot of work – and it is! But here's the thing:
Set small, achievable goals, especially in the early stages of trying to write, otherwise you run the risk of becoming downhearted and giving up.
Can you make time to write on a regular basis, even half an hour a day? Maybe get up 30 minutes earlier, or skip Newsnight (or even an episode of Love Island...)
Find half an hour and write just one page, approximately 300 words, about something in the news, or something mundane, like what you did yesterday. Don't sweat over it or try to make it 'perfect', just write whatever comes. The point is to see how writing a single page feels.
Could you manage one page per day? If so, great! Make that your daily achievable goal. If not, make it half a page. Whatever works, works.
So… if the average book is between 80,000 and 90,000 words, 300 words a day – every day – would give you a first draft in approximately three months. Small, achievable goals – that's the way forward.
See you on Skyros!
---
For more information about Simon and his course click here >>>
Call to book on +44 (0) 1983 865566 or book online here >>>