The Skyros Blog
reflect, comment, share
Why Spending Christmas at The Grange Is The Best Idea You'll Have This Festive Season
Friday 30th November 2018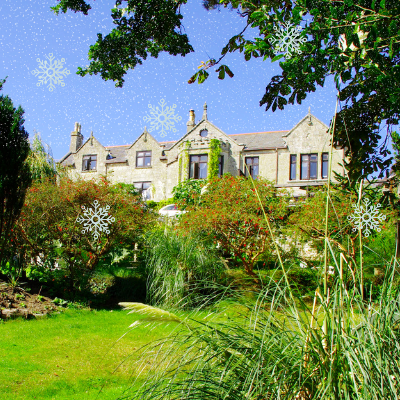 Why Spending Christmas at The Grange Is The Best Idea You'll Have This Festive Season
Forget entertaining, cooking and washing up - leave it all to us as we take care of you this Christmas
1. No need to buy dozens of unneccessary Christmas presents
Bring just one gift with you to swap on Christmas morning - Santa still visits the Isle of Wight but it's a long swim! Bring something silly or useful, edible or pretty but don't spend any more than £10.00.
2. Make new friends
Here you can meet lots of other lovely people like you who choose to travel solo. Whether you want to avoid family or just fancy spending Christmas in a new place - you're bound to make new friends and come away with warm memories of your time at The Grange.
3. Cooking and washing up taken care of
A great stress of the festive season is the dreaded trip to the supermarket - do you go at midnight to avoid the queues? Do you get the last-available-slot of 5am delivery? No need to sharpen elbows to grab the last turkey. Our wonderful chefs Takis and Naomi will lay on a magnificant spread every day and you definitely don't have to wash up! Meals are buffet style, a traditional Christmas feast will be on offer with dietary requirements all catered for. Breakfasts offer a continental buffet with a choice of fruit, yoghurt, cereal and juices or choose from the hot menu. Lunches and evening meals will have a touch of mediterranean flair with chef Takis at the helm.
4. Learn something new
Connect with faciltiator Andew Risner as he guides you through his personal development course, Your Best Year Ever. Layer upon layer, he will work together with you to literally transform you into the person who can confidently create, pursue, and maximize your dreams. You will leave with a clear picture of what your best year ever will look like together with tools and strategies of how to implement it once at home.
Join Susie Self in Joyful Choir - not to worry - no singing experience is necessary. Free your voice, connect with others and fill yourself with upbeat wellbeing. Relax and release your creativity with Mandala Painting - all materials are provided.
5. Sleep well
The Grange is a 4* B&B with many guests calling it a 'home from home'. After a busy day and with a full belly snuggle down in one of our 15 ensuite bedrooms, hear the wind rustling the trees and the sound of waves crashing in the distance, that fresh sea air will have you sleeping like a baby.
---
Our Christmas Celebration includes three nights twin share accommodation, all meals, courses and activities. Price: £425.00, a 10% discount is available to Friends of Skyros. Single accommodation is now full but you can join the waiting list in case of upgrades or cancellations. Also, you can stay locally, join us for everything else and receive a discount. Call to find out more.
For more information about Christmas at The Grange see here.
To book online click here or call us on 01983 867 644, we're always happy to answer any questions you may have.
---