The Skyros Blog
reflect, comment, share
What Is Oekos?
Wednesday 5th June 2019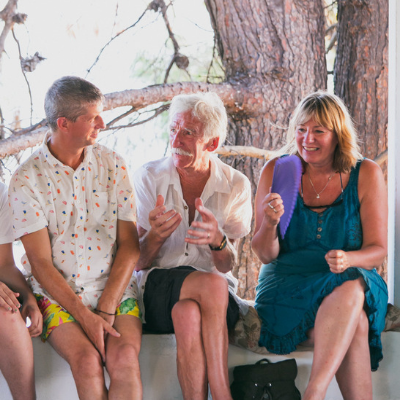 Œkos in Greek means home or family, it's a community structure included to provide simple lines of communication between people, support the drive of its members to fulfill their potential and help revitalise the community.
Œkos is about both inner and outer change. The idea is underpinned by an alternative value system which places the emphasis on being rather than having, doing rather than consuming, cooperating rather than competing and caring rather than being indifferent or cynical. Its holistic approach to life aims to acknowledge all our needs intellectual, social, emotional, spiritual and physical.
An œkos group does very well in Atsitsa, but an œkos network can also be established in the neighborhood, the college or the workplace. The idea is simple. A group of six to twelve people get together with a commitment to communicate with each other openly and honestly. The meetings begin with a 'round' in which members take 3-5 minutes each to speak from their heart about where they are at this moment in their life. The space is then open for feedback, discussion, exchange of ideas and planning of activities on whatever level the group feels committed to.
Fully autonomous, the groups determine their own flavour, range of interests, and scope of activities. They are open to everyone who shares their values and objectives.
All members of the group commit, of course, themselves to complete confidentiality. Without it, trust can never grow and people will never open up. This doesn't mean you can't talk outside the group about your own experience in it, but it is not appropriate to name or identify the members or their concerns in any way that violates the trust they have placed in you.
Œkos is about being and doing something positive with the group's support. The group can provide the emotional and intellectual stimulation to aim higher in life and even make dreaming once again possible!
---
If you would like to experience Œkos for yourself, see our holiday dates here >>>