The Skyros Blog
reflect, comment, share
What are family constellations?
Wednesday 8th March 2023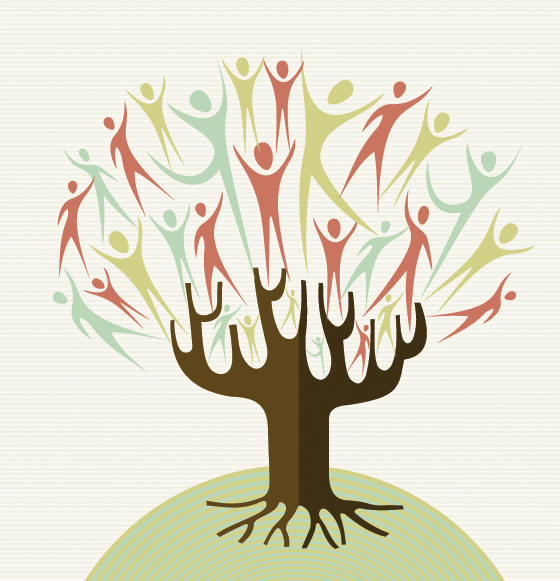 Are you feeling stuck in your life? Are there issues at home or at work that just won't go away, however carefully you think them through and try to resolve them? Have you ever thought of attending a Family Constellation?
Family Constellations, developed in the 1980s and 1990s by German philosopher and psychotherapist Bert Hellinger, use a systemic approach to working with individual issues that can also be applied to businesses and organisations. The types of issues that people bring to a Family Constellations workshop are the same as those presented to coaches, counsellors and psychotherapists. The obvious difference in the approach is that Family Constellations consider issues and challenges, not to mention hopes, dreams and aspirations, from a multi-generational perspective. This work draws on our most basic sense of belonging to a group. This is our inheritance from the animal world and it is still with us in the form of an internal com- pass that tells us when we belong – or when that sense of belonging feels threatened – in relation to groups and systems.
The approach pays a great deal of attention to certain patterns that appear over generations in a family. Hellinger observed that groups or systems have certain ordering forces that govern them. When we are in accord with these forces, love flows and group/family/system members thrive. When we are out of alignment with these forces, sometimes called 'The orders of love', we can usually see one or more people in a system suffering.
Short-term and solution-focused, Family Constellations create a dynamic snapshot of the system to which we belong by illuminating the relationships between the various elements within it. A system usually contains both ancestral (trans-generational, familial) and sociological (cultural and historical) elements unique to every individual or issue under consideration. By paying attention to the contexts that shaped our parents, grandparents and great grandparents (and therefore ourselves), a map of the entire system can be constructed. From this perspective we are more able to see how things are or were and to see clearly where we are systemically entangled with people and events, including those belonging to wider familial, historical and cultural events. In this way the core of seemingly intractable issues can be accessed and a new vista of connections and possibilities opened as time and space are condensed in front of us.
What happens in a Family Constellation?
In a group of between 8 -16 people a 'living map' is created in relation to the issue under consideration, using members of the group who come to support the work or map out an issue of their own. Using the group's members to 'stand in' as parents, grandparents and events, a unique pattern is set up that condenses time and gives clues to the relational and spatial patterns of the system's members, thus creating a three dimensional image of the issue under consideration. We don't need the actual people to be present, whom, of course, we can't change, but we can remember their unrealised potential and their essence in a new and fresh way that supports the restoration of systemic order and balance. By reaching further back into the lives and circumstances of previous generations we can see the bigger picture and a place in it for ourselves that is free from prior limitations and unnecessary suffering.
Once the constellation is set up, with the guidance of a skilled facilitator it can be 'read', enabling dynamics, entanglements and loyalties that were previously hidden to be seen clearly. Primarily the approach works with internal memories, images and stories of the people, places and events that shaped our lives and the lives of the generations preceding us. In the initial stage of a Constellation it is common to identify trans-generational attitudes that, although deeply loving and generous, are ultimately unhelpful. These attitudes often transgress the ordering forces that govern systems; for example, guilt and merit belong with those who earned them and cannot be assumed by anybody else. Respectfully handing back guilt to those to whom it belongs is one key theme in Family Constellations, as is including, remembering or honouring people who have been forgotten, ignored, locked away or insufficiently grieved. The facilitator uses various rituals, reordering of the spatial arrangement within the Constellation and healing sentences to resolve entanglements with previous generations. Sentences like, 'I'll follow you', 'I'll go in your place' or 'Rather me than you' are examples of a blind love that entangles us. Instead, resolving sentences like, 'I see your burden and I honour it' or 'With respect I'll leave it with you', facilitate the process of disentangling identifications by leaving difficult fates with those to whom they belong and bringing the Constellation's, and the issue holder's, orientation to the present and future instead of the past.
Family Constellations are, metaphorically, more like homeopathy than surgery. Gratitude, modesty and serenity are important qualities that emerge naturally in most constellations. It is a gentle, soulful method that creates living experiences of something new rather than cognitive insights alone. Any successful intervention in a Family Constellation will be appropriate, strengthening and enduring. Rather than being about individual change the process enables us to live well within systemic limitations.
Who Attends a Living Maps Workshop?
Workshops are suitable for anybody regardless of their experience of Systemic coaching. The approach provides deep levels of resolution for personal issues such as, though not limited to, relationship difficulties, addictions, mood and behavioural issues, eating disorders, and family ruptures. It is also effective in illuminating new directions, structures or futures for businesses or organisations. In addition to those bringing an issue, others may come to act as support people or to be representatives. Counsellors and therapists may come with their clients in order to augment therapeutic work. People from the helping professions may also attend in order to explore the benefits of this systemic approach.
John Harris facilitates Family Constellation workshops in London/Brighton and Skyros Centre this year 3 – 10 June.