The Skyros Blog
reflect, comment, share
The Power of Play
Thursday 10th August 2017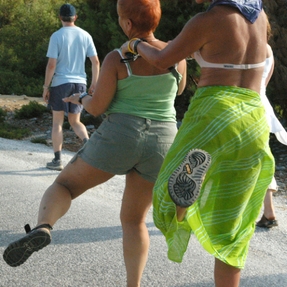 The Power of Play
Why playtime for grownups is so important
Many people are aware of the power of play for children's learning and development but in the day to day world of work, bills and responsibility of adult life we somehow believe it inappropriate, childish or even frivolous to play.
In the animal kingdom, play is enjoyed all throughout adult life so why should humans be any different?
Recent research from University North Carolina-Chapel Hill and Northwestern University suggests that play for adults is essential for wellbeing, creativity and health.
Alison Goldie, actor, writer and Skyros facilitator, is fully aware of the power of play and has even written a book about it.
In this interview Alison explains how play can lighten adulthood and give us a much needed rest from everyday life. Exercising our imagination can help us be more in control of our lives allowing us to lead our life rather than have our life lead us.
To hear more about Alison and her work watch the video below. Catch Alison at minute 7.07 as the conversation really hones in on the Power of Play in everyday life.
The video also touches on Julian Russell's Discover Your Life Calling workshop at the Skyros Centre.
please note there is some mild bad language towards the end of this video
Did you find this video helpful? Have you worked with Alison or Julian before? Do you have any questions for either of them?
Share your thoughts and feedback in the comments section below. We look forward to continuing the conversation here
Search by Tag