The Skyros Blog
reflect, comment, share
The Importance of Deep Relaxation by Beverley Drumm
Thursday 23rd August 2012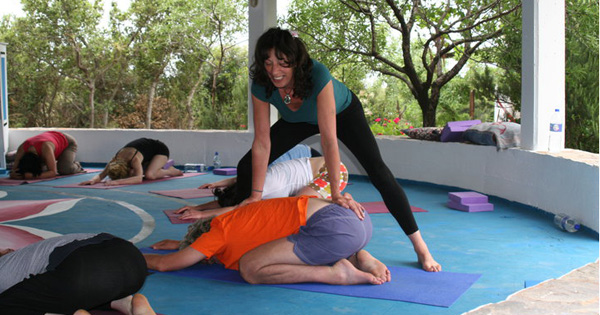 The current season for Skyros holidays, the leading holistic holiday, is now in full swing, offering inspiring and invigorating course-based breaks on the beautiful Greek island of Skyros.
Most recently inspired was Skyros facilitator and holistic wellbeing specialist Beverley Drumm who just returned from the latest Atsitsa holiday where she ran her fabulous courses in Nia dance and Kundalini yoga.
Affected by profound sense of relaxation and freedom on the holiday, Beverley was spurred into sharing her observations.
At the end of any yoga class, there will always be time for deep relaxation. And, as any yoga teacher will tell you, this period of complete surrender into stillness is just as important as the active engagement of body and mind that has gone before. This is the time when the "amrit", or "sacred nectar", generated during practice settles and assimilates.
C
oming to Skyros reminds me - both personally and in witnessing others - that this kind of deep relaxation is very much absent from our everyday lives. In conversation after conversation with participants, especially in the first days after arrival, I hear tales of lives lived full-on, packed with activity, doing and stress.
And then, on coming to Skyros, there is suddenly the time and space to take a long, slow, deep breath and just be. No agenda to fulfill, no deadline to meet, no constant bombardment and distraction from the media and electronic communications. The body and mind are able to relax and let go.
What happens as a result is quite magical. Tense bodies and faces visibly soften and brighten. Deep connections are forged. Life-changing insights arise without effort, and astounding creativity unfolds. A community spirit and structure grows that is inclusive and generous-hearted, able to flow spontaneously with group needs, yet deliver specifics on time and in place.
If only we could remember this as we journey home, back to our lives "out there", and all the demands and responsibilities we'll be met with. If only we could remember how much richer and easier our lives would be, if we kept this sense of deep relaxation present with us.
Those decisions and tasks we fret and agonise over, the problems that seems insurmountable, the burdens we feel on our shoulders, will surely diminish and be met with new solutions, when faced with a calm mind, open heart and a full deep breath that slowly expands and contracts the belly.
Whether you are "out there" right now, or enjoying a magical holiday with us in Skyros, take time to breathe deep and remember how cultivating a sense of deep relaxation in your life, will enhance your sense of well-being and allow all aspects of your life to flow with greater ease. Your body, mind and spirit - not to mention your friends and family - will thank you for it.


Beverley Drumm
Nia Dance Teacher and Kundalini Yoga Instructor with Skyros
www.nectaroflife.co.uk
Search by Tag