The Skyros Blog
reflect, comment, share
Sunday Live Q&A
Tuesday 7th May 2019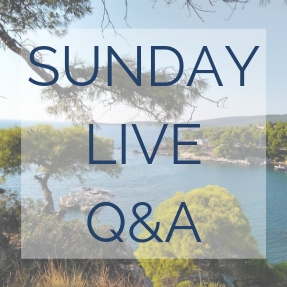 Frequently Asked Questions With Skyros HQ
Dreaming of going on a Skyros holiday in Greece this summer? Wondering what's on when? Meet Christine, Michelle & Lottie from Skyros holidays HQ and get your questions answered!
Find out:
Key differences between the two Skyros holidays centres

Whether the holidays are adult only or if you can bring your family

What the accommodation is like at each centre

What kind of food is included

The age range that a Skyros holiday attracts

The type of courses and activities included
01.40 Introductions
03.13 Lottie's story
05.20 Skyros island
05.27 Introduction to the two Greek island holiday centres
06.54 The Skyros Centre
08.07 Atsitsa Bay
08.34 Lottie - "the greens are greener, the blues bluer"
09.40 Closed Facebook group for 2019
10.27 Beaches
12.54 Writing
14.14 Abseiling, windsurfing, kayaking
15.00 Accommodation in Atsitsa
17.50 Accommodation at the Skyros Centre
20.00 Skyros island community
22.47 Michelle joins in
24.27 CPD certification
26.14 Food
29.01 The size of the groups at each centre
29.34 The ages of the holiday groups
31.01 4-page mini programme
32.34 Lottie - call for a chat to talk through options
---
Now you've had a chance to view some of the above, do you have any questions about the holidays? We'd love to hear from you.
** Add in your comments and questions below and join the conversation! *** We will reply to everyone...
---
To download the four-page Skyros programme click here
To view Skyros holiday dates or book online click here
To read more FAQs click here