The Skyros Blog
reflect, comment, share
From alternative holidays at Atsitsa in the 90's to living in a community in 2020
Monday 15th February 2021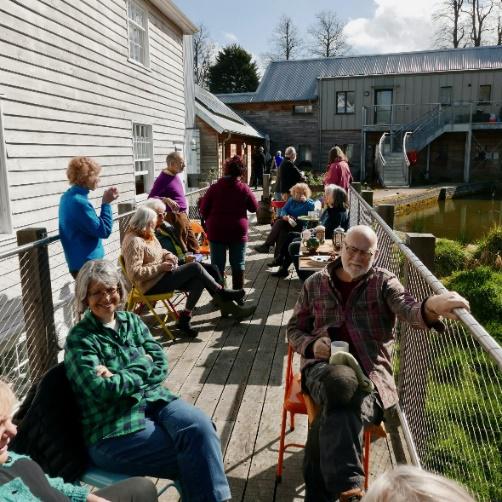 We get all excited at the office when you send us updates about what's important to you right now. In this blog, previous Skyros holiday participant Jane Ferguson tells us about her adventures on an Atsitsa holiday, and how they have led to her involvements with cohousing. We absolutely love that she is representing the Skyros-style community vibe through her Cannock Mill projects . . .
I have such great memories of the three holidays I spent at Atsitsa in 1993, 1994 and 1997 -memories of the beautiful setting, the amazing people and the joyful atmosphere. I remember doing courses with the wonderful Hazel Carey, who remains an inspiration and a friend to this day. I also worked with other excellent facilitators such as Allegra Taylor, Malcolm Stern, Merle van den Bosch and Julie McNamara – writing, singing, dancing and learning more about myself. My husband, Tim, and I met at the Skyros Club held in London in the days when there were monthly workshops and shared meals.
The Skyros holidays really made me think about how I wanted to live a bit differently and I think they ultimately helped Tim and I decide many years later to move out of London and join Cannock Mill Cohousing in Colchester in 2020. Cannock Mill is an intentional community, created and run by the people who live here. Each household has its own self-contained Passivhaus house or flat as well as sharing the community space consisting of a common house and two acres of land. Together we manage the community, share activities, and regularly cook and eat together. Living as a community provides so many opportunities for fun and sharing our skills including voluntary workdays tending the gardens and other activities such as meditation, pottery, cycling, beekeeping, French and film evenings. One of the joys of community is being able to support each other in many ways.
We are currently having a Victorian house on the site converted into three two-bedroom flats which should be completed in about November 2022. If you'd like to learn more about Cannock Mill, please have a look at our website: cannockmillcohousing.co.uk where we aim to give a vivid impression of life in the community. If you might be interested in joining us and buying a property, please email living@cannockmillcohousing.co.uk
Skyros offer leading holistic holidays -- a place to explore your creative potential and meet like-minded people in stunning locations. If you'd like to join one of these life-changing holidays, or for more information on our current programme of events, see our calendar here >>