The Skyros Blog
reflect, comment, share
Creativity Makes You Happy
Tuesday 14th May 2019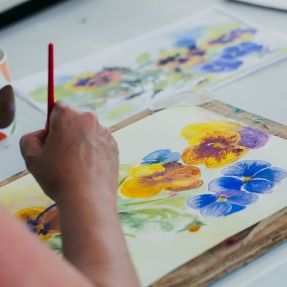 Creativity Makes You Happy
Anyone who has found themselves lost in time over a spot of colouring in, singing or watercolours knows that focusing on something creative makes you relaxed. Now the clever scientists at the BBC have found that creativity really does boost your mood.
Around 50,000 people have taken part in the BBC Arts Great British Creativity Test, with singing, painting, crafts, creative writing, dance and photography all in the top 10 most popular hobbies. The findings suggest that creativity can help you to avoid stress and build your self-esteem, both so necessary in our hectic world and the good news is that you don't even need to be good at the activity - taking part really is what matters.
The research found that trying new activities is of more value than sticking with the same one for long periods, so take your pick from the huge range of creative activities we have on offer this year and click here to download our 2019 programme or watch the video below.
Read the full BBC article here >>>