The Skyros Blog
reflect, comment, share
Atsitsa Bay Diaries - Week Four
Thursday 6th September 2018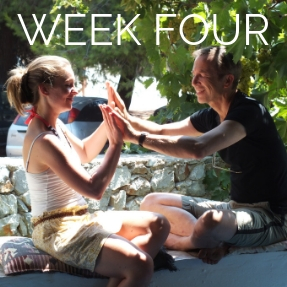 Old friends reunite at Atsitsa Bay
Sarah Bridge is our transfer manager this year, spending her summer based in Atstitsa Bay and ensuring everyone safely arrives and departs from their Skyros Holiday. She will be writing a weekly blog about life in Atsitsa so check back each week to keep up-to-date.

We're used to reunions here at Atsitsa Bay: so many people come back year after year that the start of every session is a delightful mix of welcoming new faces and reconnecting with familiar ones. Some participants choose to coincide their holidays here with friends they have made in previous years – friends made during courses, on the beach, in the bar or over dinner – while others take 'pot luck' and wait to see who is on the plane or the ferry to find out who they're going to catch up with over the next week or two.
Some friendships made here can turn into something deeper and more permanent: at least two couples on this current session met on previous sessions and there have been many more over this season returning to where love first sparked . (The after-breakfast vegetable chopping group alone has been responsible for several marriages – who knows how many romances have flourished over the washing up or while sharing a stage on Cabaret Night?)
However it is the unexpected reunions which are a unique source of delight and there have been at least two in the last few weeks. Two participants on the last session, while chatting in the bar late one night, realised that they worked together more than 20 years ago while doing a season in a holiday resort in Turkey – one was working in the hotel while the other was the windsurfing instructor. And this week two people have been reunited after a staggering 36 years! They knew each other at university and even lived on the same street. Now, almost four decades later, they have resumed their friendship, thanks to the call of Atsitsa Bay. Who knows what other connections are being formed, here or around the world, which will be rekindled on this corner of Skyros Island in years to come?