The Skyros Blog
reflect, comment, share
Andreas Vetsch: 1949 to 2017
Saturday 15th July 2017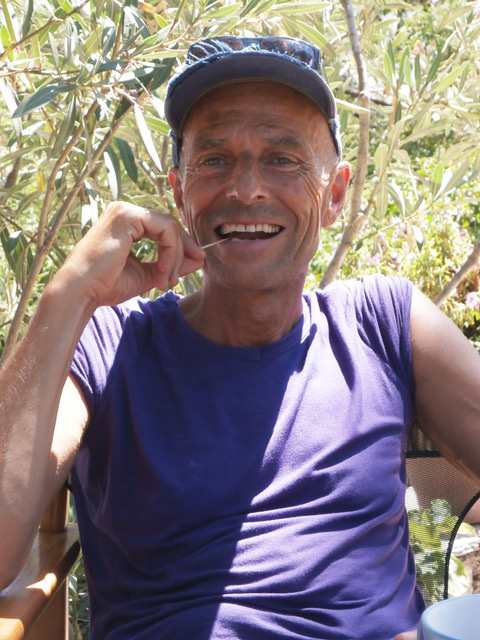 We are very sorry to give you the news that Skyros yoga teacher Andreas Vetsch passed away last week. Andreas loved Atsitsa where he had been teaching every year since 2004 - he was expected to arrive in Atsitsa on Skyros island in Greece again this coming Saturday but had cancelled due to illness. His fellow facilitator, Richard Layzell has provided this tribute to him...
My fellow teacher and dearest friend Andreas Vetsch sadly, and suddenly, died a few days ago in Switzerland.
For the many people who experienced his wonderful teaching and his unique contributions to community life at Atsitsa this is an indescribable loss. Andreas was in every sense a one-off and his unstintingly courageous path in life was both creative and spiritual.
He worked as a film director in New York, then completed intense training in yoga in India and New York, setting up two successful yoga studios in Arbon, Switzerland.
He also developed a unique combination of art and yoga, with live events involving video projections and spectacular lighting. His most recent adventure was to complete the first year of a professional clowning training in Konstanz Germany.
Andreas loved Atsitsa and this is where he met his wife, Susanne. Their luminous apartment is close to Lake Konstanz, which they often explored together on their bikes or scooters. He was a devoted father to his equally charismatic young son Julijan, who lives in Ljubliana.
The professionalism, warmth and humour of his yoga classes made them unforgettable. His gentle mocking laughter (hmm…this is supposed to be 'happy baby' pose…) and his deep resonant voice will forever stay in the ether of the Pine Circle, while his capacity for profound honesty was a blessing in the teachers' oekos meetings or in our co-listening sessions over an ice cream in the bar.
I miss him terribly but am also celebrating our close friendship and the time we had together in Skyros, London and Switzerland, or as Andreas would say:
The past is history and tomorrow is a mystery but the present is a present…..Now put your hands together in Namaste…..Om…..
Richard Layzell
Search by Tag