The Skyros Blog
reflect, comment, share
10 Benefits of Yoga
Thursday 3rd August 2017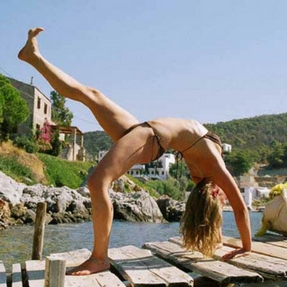 10 Benefits of Yoga
Anybody can practice yoga
Yoga is a wonderful practice for all round improvements to body and mind.
Common ailments including chronic disorders can be improved by practicing yoga regularly. Each pose (or asana) has a specific form and shape and to perform them properly takes exact stretches, counter stretches and resistance. These together help to align the skin, flesh and muscular structure with the skeleton helping your body to work more efficiently with less stress.
The pose and cycles of poses all give different effects on the body:
Standing poses for vitality
Sitting poses for calm
Twists for cleansing
Supine poses (lying on your back) for rest
Prone poses (lying on your front) for energy
Inverted poses for mental strength
Balancing poses for lightness
Backbends for exhilaration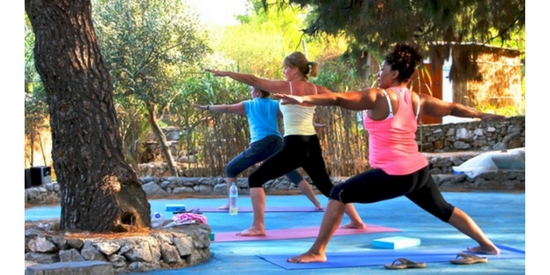 Here are just 10 benefits of regular yoga practice:
Improved Flexibility
A popular misconception is that you need to be flexible to practice yoga. The truth is, the more you practice the more flexible you will become. As you become more experienced your muscles will loosen and become longer, helping you prevent injury and promoting a better posture.
Build Muscle Strength
Strong muscles help protect the body from problems such as arthritis and lower back pain. Strong muscles also help older people avoid nasty falls that can have considerable knock-on effects to mobility and overall health.
Yoga differs from traditional weightlifting muscle strengthening as it is balanced with flexibility.
Increased Bone Strength
Weight bearing exercises strengthen the bones. Many yoga poses require you to lift your own body weight which helps to strengthen bones especially in the arms and legs.
Boosted Immunity
As you stretch and move in and out of poses, the drainage of your lymph glands increases. The lymphatic system helps your body fight infections and cancerous cells and disposes of toxins from the body
Aerobic Workout
Although yoga is not a traditional aerobic workout it still gets your heart pumping in the aerobic range which helps reduce your risk of heart attacks, strokes and depression
Makes you Happier & More Confident
Inverted poses (which incidentally should never be practiced during menstruation) increase mental strength and boost mood and just try doing Warrior pose and not feeling like you can take on the world!
Releases Tension
Everyday life and unconscious habits create tension in our bodies that we often hold onto without realizing – how often have you suddenly noticed your shoulders are shrugged?! Through stretching and working your muscles slowly tension is released and regular practice keeps this released!
Relaxes System
Yoga in itself encourages you slow down and relax but also yoga is great for practicing mindfulness. During a yoga session you will find yourself focused solely on the pose so everyday worries magically disappear.
It is important that after each yoga session you take the time to relax in Savasna (corpse pose) and let your body process the work it has just undertaken. This is a wonderfully restful pose that completely relaxes your nervous system as well as eases away any muscle tension you may still be holding.
Improves Balance
Practicing the poses with proper alignment means your body is perfectly balanced. Obviously this takes time and practice but as you get better your balance improves along with it.
Better Sleep
With a more relaxed, tension free, happier and fitter you it stands to reason you will sleep better, and better sleep promotes a more relaxed, tension free, happier and fitter mind and body!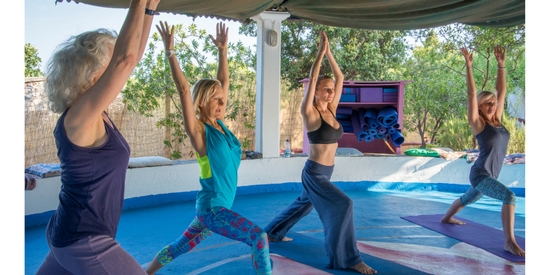 All of our yoga holidays can be found here >>>
Has this inspired you to start yoga? Have you been on a Skyros holiday and kept up yoga practice on your return?
Comment below so we can continue the conversation, we'd love to hear from you!
Search by Tag