The Skyros Blog
reflect, comment, share
Clowning Around with Ailon Freedman
Thursday 30th May 2019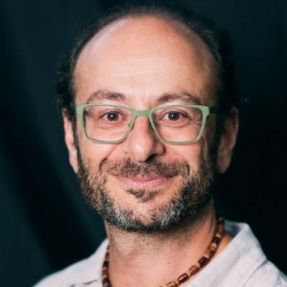 Clowning Around with Ailon Freedman
First of all, put to one side those cliche images of clowns with too much makeup and scary faces. Clowning actually provides an opportunity for adults to get back in contact with their "inner child" and an often buried sense of playfulness. Clowns like to play, have fun, break the rules, be silly- all the kinds of things that grown-up adults aren't supposed to do
The primary focus of this course is to provide a safe and nurturing space where we can relearn this "Practice of Playfulness". As we become a little more carefree and unburdened, we can step into a more subtle layer of the clown- a sense of innocence, vulnerability -and an endless discovery about the present moment
In a nutshell, clowning is good for your emotional health - it's a type of emotional yoga that gives all our feelings a stretch and generates a lot of laughter along the way
"I lost three things from your workshop. A stiff body. A numb heart..and a disease called Seriousness"
Click here for more information >>>
About Ailon Freedman
Ailon Freedman is a multifaceted creative arts facilitator who runs workshops in comedy, drumming, yoga and public speaking in both the corporate and personal-development worlds.
As a character comedian he has performed around the country as his alter egos Trev the Yogic Builder and Reiki Ron and also produced his own comedy films.
Ailon is interested in the therapeutic value of comedy, seeing laughter and play as a wonderful way to help us take ourselves a little less seriously.
He teaches his signature course Clown Healing in China, runs Mime-fulness classes in companies and has recently set up the Karma Klown Club with fellow Skyros facilitator Marina Sossi.
Click here for more information >>>

About Atsitsa Bay
Ailon's courses are held in Atsitsa Bay - a holistic holiday centre set in a stunning, natural location, right on the bay and surrounded by pine forest. With a wide range of courses and activities and an outstanding team of facilitators, it's the perfect place to be inspired and try something new.
What's included?
More than three courses per day over four to five days each week
An unrivalled and vibrant community atmosphere
Fun evening activities and events
Three delicious Mediterranean meals each day
Twin shared rustic accommodation in Atsitsa's gardens (upgrades available)
Click here for more information or to book online >>>