The Skyros Blog
reflect, comment, share
Ever wondered what Co-listening is all about?
Sunday 28th June 2020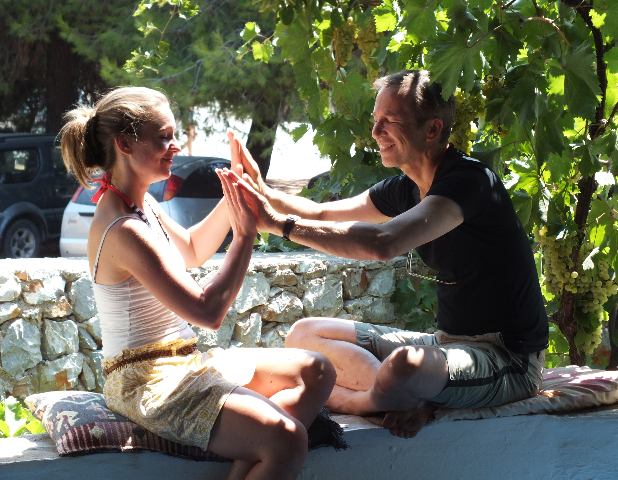 What is Co-listening?
Me too! It was something I had never heard of until I joined Skyros. I hope the following can help you see how beneficial taking part in Co-listening can be.
The basics of Co-listening…

This Skyros tradition involves meeting with a partner once a day for a period agreed upon between the two partners. Each partner is given an equal amount of time to talk while the other listens, and to listen while the other talks. This is a completely safe and powerful way of working together, as long as the basic rules are followed.

The benefits of Co-listening...

By opening up to 'real talk', and 'real listening', you are opening up to your creative ability to work through a situation.
The effect of Co-listening also spreads to the possibility of 'real talk' in the wider community.
You can take Co-listening home with you. Some people have carried on co-listening in their own towns, sometimes with their original partner or with others. In some cases, it has helped to transform marriages where partners have stopped talking to each other.

The principles of Co-listening…

Choose a partner you feel comfortable with.
Each partner must have equal time, usually about 10 minutes for talking and 4 minutes for feedback.
Keep approval statements or sounds to a minimum, and be aware of giving the other your full attention.
Whatever is said is completely confidential.
When giving feedback, clarify and reflect back what has been said. Try not to interpret, give advice or approve or disapprove with what has been said.
Taking part in Co-listening is totally voluntary; as with all courses in Atsitsa you can do as much or as little as you like. Further details can be found on the Skyros Website here.
If you are interested in Co-Listening and would like to experience it for yourself join a Skyros holiday this summer. See dates and more information here >>>
Search by Tag