Book now
Activities at Atsitsa Bay, Greece
Latin Dance, Belly Dance Fusion with Michelle Pitchers
Sat 12 - Sat 19 Aug 2023
Latin Dance Party
The next time you are asked to dance, be prepared to say yes! By learning basic couples' dances with Latin Dance Party, you will never have to 'sit it out' at the party again.
Have fun connecting with others and encouraging one another

Improve at your own pace and discover your favourite dance

Be involved and surrender to the holiday beat
This course is aimed at absolute beginners but can also be a great refresher for those with more experience. In these classes we cover a basic Cha Cha, Rumba and Jive. You will learn one dance per class with plenty of time to practice each. The last class concludes with a fabulous dance party where you will be able to experiment with the moves you have learned to many different dance tracks.
Once you are using the basic steps, we will focus more on styling and from there on, you will be able to become as flamboyant as you wish! You will also be able to practice your dancing at the bar in the evening!
Belly Dance Fusion
Discover your inner fabulousness with Belly Dance Fusion empowerment. In this confidence building creative dance class you will connect with the most exciting and fun part of you.
Express yourself safely and joyfully with others

Dance to feel fantastic and free without pressure or competition

Learn, experiment, paly and freestyle
This is a course aimed at absolute beginners but can be enjoyed by all. We begin by learning the most famous and central belly dance basic movements and then the fun begins! On this course you will be taught how to perform simple combinations and a short dance routine which is achievable and empowering. In no time at all you will be dancing!
Over the course we will progress to movement, spinning and enhancing your dancing with veils. Stage craft and visualisation techniques are also included to help you to build confidence in your performance. Strike a pose! And laugh with your new friends along the way….
---
What's included?
Michelle's course is held in Atsitsa Bay on Skyros island in Greece and is part of the wide range of courses and activities available. The holiday includes full board twin shared accommodation in an eco-hut. Single upgrades and twin shares in the house are available. Chat through the website, call +44 (0)1983 86 55 66 or email holidays@skyros.com to discuss your requirements. Find out more about the fortnight (AT4) here and the week (AT5) here.
---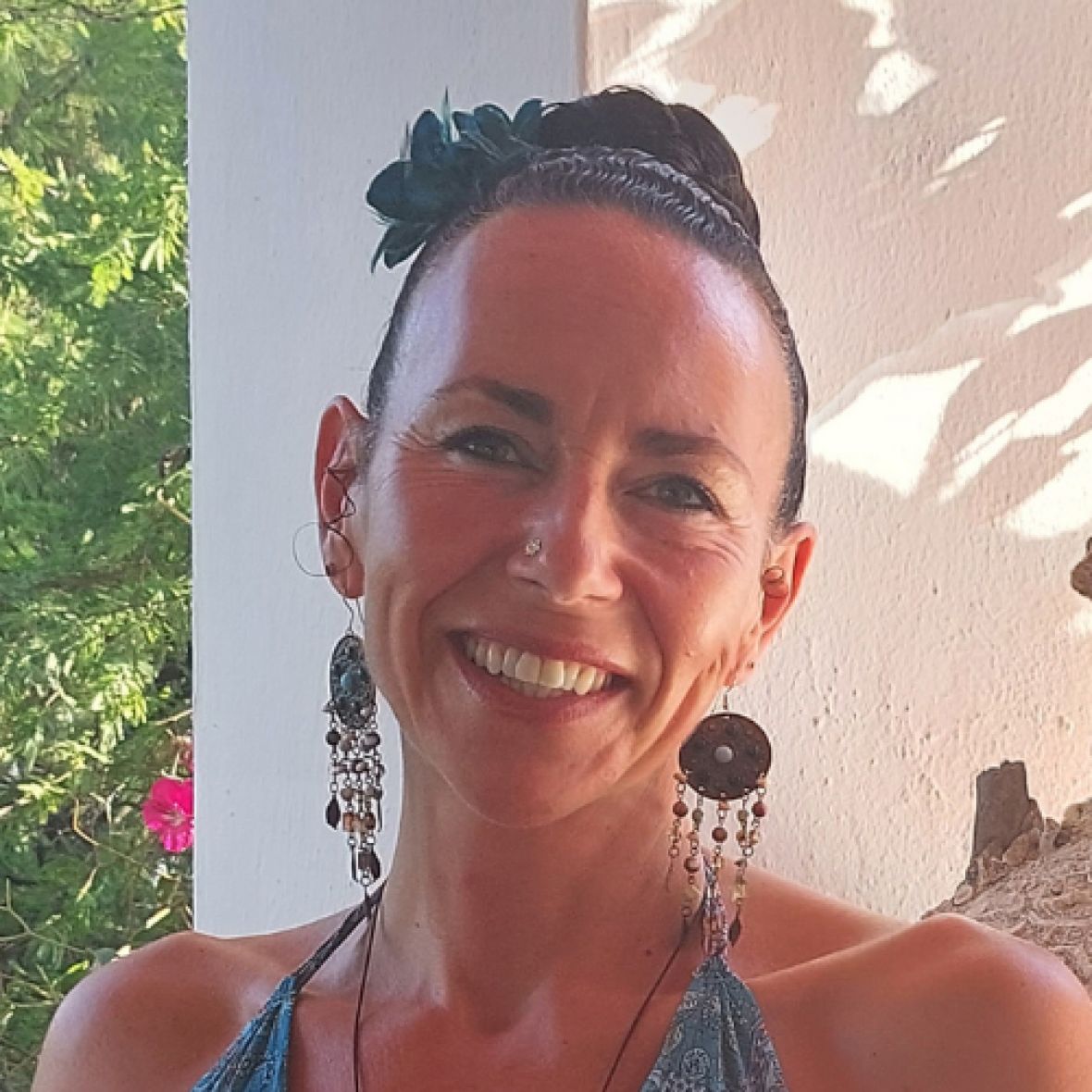 About Michelle Pitchers
Joyful and bursting with energy, Michelle uses her teaching skills, positivity and encouragement to transfer her 'sparkle' to those who join her classes.
Michelle currently works in corporate training, where she focuses on assertiveness and confidence building and is passionate about supporting others to harness their own inner strength and self-belief.
With a lifelong career in education and training, supported by counselling and hypnotherapy, Michelle has developed her teaching techniques in a diverse range of establishments including; MOD Training Organisations, Foreign Colleges, Higher and Further Education Institutes and The Corporate sector.
She has lived and worked in many countries including the UK, Germany and New Zealand as well as teaching in Moscow, Venezuela, South Korea, Estonia and Israel. She gained her BA and MA at the University of East Anglia, her teaching qualifications through the University of Southampton and Cambridge and is currently, studying for her second MA at the University of Glasgow.
With a background in Leadership, Management and Cultural Awareness, Michelle is capable of leading and inspiring a diverse range of individuals to achieve their full learning potential in many subjects, but her true passion, is dance.
Michelle has practiced Ballroom and Latin American dance since the age of eight. Over the past ten years, she has also practiced, choreographed and performed Belly Dance which she now teaches regularly.
Michelle says "In work we are often confined to a role, we have to rein ourselves in according to what is required and appropriate. But then when we leave work, we can dance! And then we get to be who we truly are. My greatest joy, is when my work lets me dance."
What people say about Michelle and her courses
I joined Shelley's dancing group in Atsitsa halfway through the week and she kindly spent an afternoon teaching me everything they'd learnt so far one to one! Shelley's enthusiasm was infectious and the group had so much fun dancing together. I'd love to do it again!
A fabulous, inspirational dance teacher. Shelley's classes are a joy to participate in. You can't help but come away feeling fantastic.
Shelley is lovely and lends a great energy
Shelley is an inclusive, powerhouse - fabulous!
Boundless energy, enthusiasm and patience.
Patient, clear and inclusive.
So fun, so accessible! Another wonderful teacher!