Activities at
Mindfulness Through Art with Ignacio Lalanne
Exploring Mindfulness through expressive & playful art
In this four-day workshop, we will together explore the key fundamental concepts of the ancient practice of Sati, most commonly known as mindfulness. The course consists of discussions, guided meditations, and expressive and playful art-making.
It does not matter if you consider yourself an artist or not. Or even if you feel you are the creative sort. The course is all about the process and the exploration, rather than the outcome.
Practising a variety of expressive art forms will be our Sadana, a mindful practise or, if you will, our doorway to abide in the presence. We will use art- making to investigate the extraordinary power found in observing and being aware of the present moment as it unfolds around us. Learning how to treat it gently and practising how to meet our immediate experience with kindness and compassion.
The course will teach you how art-making can be a vehicle to experience mindfulness. A practice that can give you an increased sense of well being and presence in your life, enabling you to live your life more deeply and at ease in the midst of what it is.
The key benefits we hope you take away from this course are:
Increase your resilience when facing the stresses and anxieties of an uncertain world by rooting your self in the present moment
Grow your empathy, kindness and compassion for yourself by observing what happens inside you and extending this towards others
Improve your physical well-being by examining the deep links between body, emotions and mind
In this course we will cover:
how to root yourself in the present moment through guided meditations & simple body movements based in Qi-gong

how working with breath and body awareness can transform our relationship with stress, chronic pain and anxiety

how to cope better with challenging thoughts and emotions

art practice as a path to mindfulness

learning to embrace our inner critic

how to achieve greater concentration and focus

rediscovery of our beginner's mind(Shoshin)
Afternoon drop-ins include: Enzo - exploring body and breath awareness with Expressive Abstract; Shodo - exploring our relationship with thoughts and difficult emotions with Expressive Abstract; Ikebana - Exploring kindness and compassion with still life.
---
What's included?
Ignacio's masterclass is held at The Grange, Isle of Wight. Ignacio will be co-hosting the week alongside Julia Gillick and each offer a variety of drop-in classes that can be chosen on arrival. The holiday includes twin shared accommodation, all meals and courses. Single upgrades available. Chat through the website, call +44 (0)1983 86 55 66 or email holidays@skyros.com to discuss your requirements. Find out more about this holiday here.
---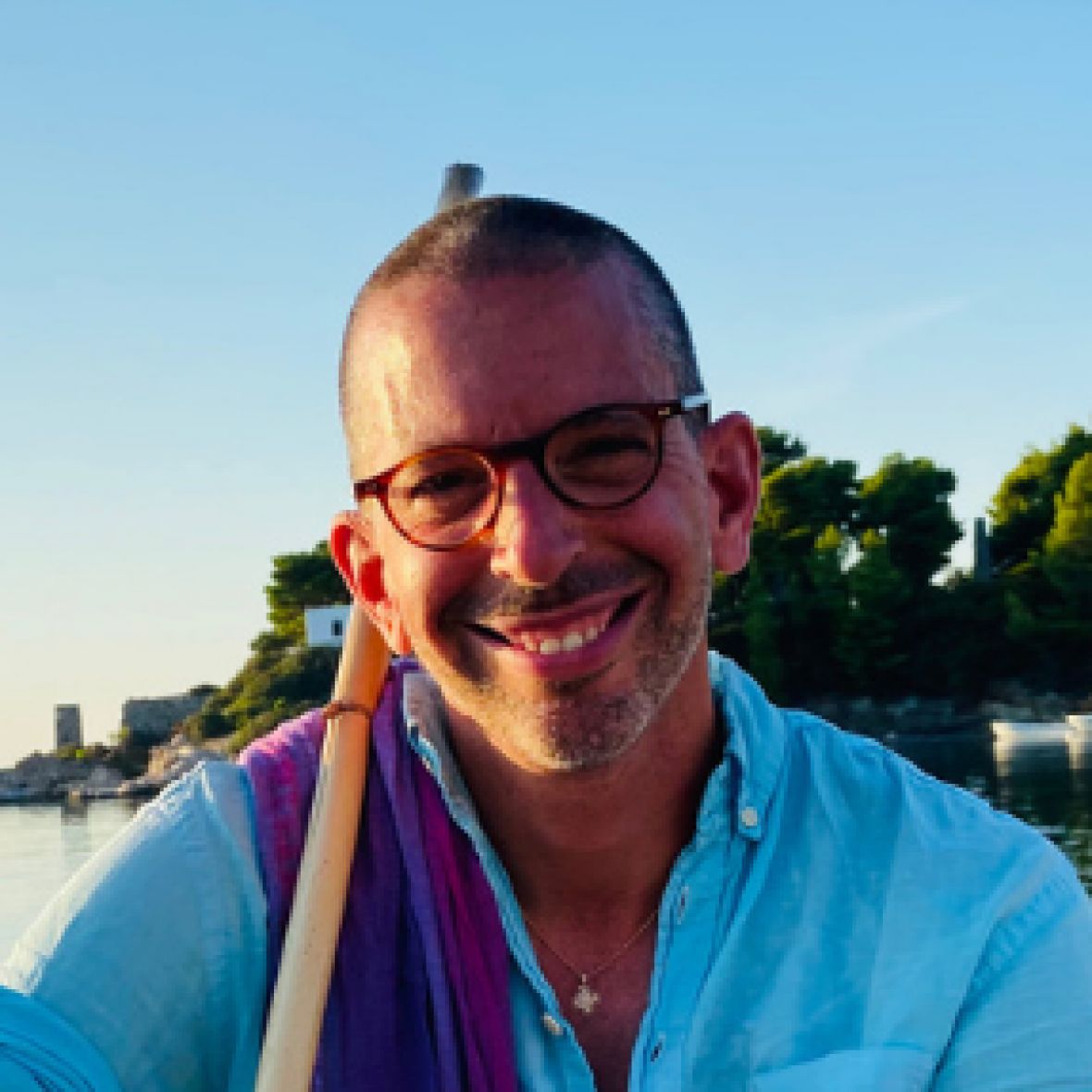 About Ignacio Lalanne
Ignacio grew up in Buenos Aires, Argentina. In early adulthood, he had the privilege of travelling and studying in India and south-east Asia. Journeys that accelerated his visual exploration of what is hidden inside all of us. It was also then that his art expanded into meditation and a deeper exploration of spirituality.
Over the years he settled in London, gained a degree in Fine Arts from Central Saint Martins, a world-famous arts college and part of University of the Arts London. He intensified his mindfulness practice, went on retreats and started volunteering and trained with Breathworks.
Ignacio is a practising artist and an accredited mindfulness teacher in the UK. You can find his studio in Bow Road, London. He also gives creative mindfulness courses in other venues such as Heatherley School of Fine Art. You can find him online at creativeawareness.art.
What people say about Ignacio and his courses:
Ignacio was kind, positive, enthusiastic and a great artist.
Very knowledgeable, a kind, good teacher. Empathetic.
Ignacio's beautiful spirit and passion shine through everything he does. It was a real privilege to be taught by him and I will be taking so much away with me. Thank you!
I loved Ignacio's approach - he is a passionate teacher and I could feel his compassionate energy towards me and the other students. Inspiring.
Ignacio is an absolute joy to behold. His thought, care, knowledge, manner, preparation and responsiveness are exceptional. Totally loved the course and my introduction to art and creativity which has always been a mystery.