Book now
Activities at Atsitsa Bay, Greece
Art & Mindfulness with Ignacio Lalanne
Sun 29 - Sun 5 Sep 2021
We will be exploring the fundamental concepts of mindfulness through creating art. It does not matter if you don't consider yourself an artist, or even especially creative. The course is all about process and exploration. You will use art to examine the extraordinary power found in observing and being aware of the present moment.
We will start right where you are. While some activities will be specific to a type of art, mostly you will be able to paint, draw or use whatever is your preferred medium, and at whatever level you find yourself on.
Mindfulness is a therapeutic technique, but also so much more than that. It can release stress and anxiety and spark creativity, but more broadly it will give you a sense of presence in your life.
We will look at how we create art. From gathering inspiration and deciding on the subject matter, to the physical act of putting paint on canvas or charcoal on paper. We will see how expressive art can create a deeper connection with ourselves and the world around us.
---
What's included?
Ignacio's course is held in Atsitsa Bay on Skyros island in Greece and is part of the wide range of courses and activities available. The holiday includes full board twin shared accommodation in an eco-hut. Single upgrades and twin shares in the house are available. Chat through the website, call +44 (0)1983 86 55 66 or email holidays@skyros.com to discuss your requirements. Find out more about this holiday here.
---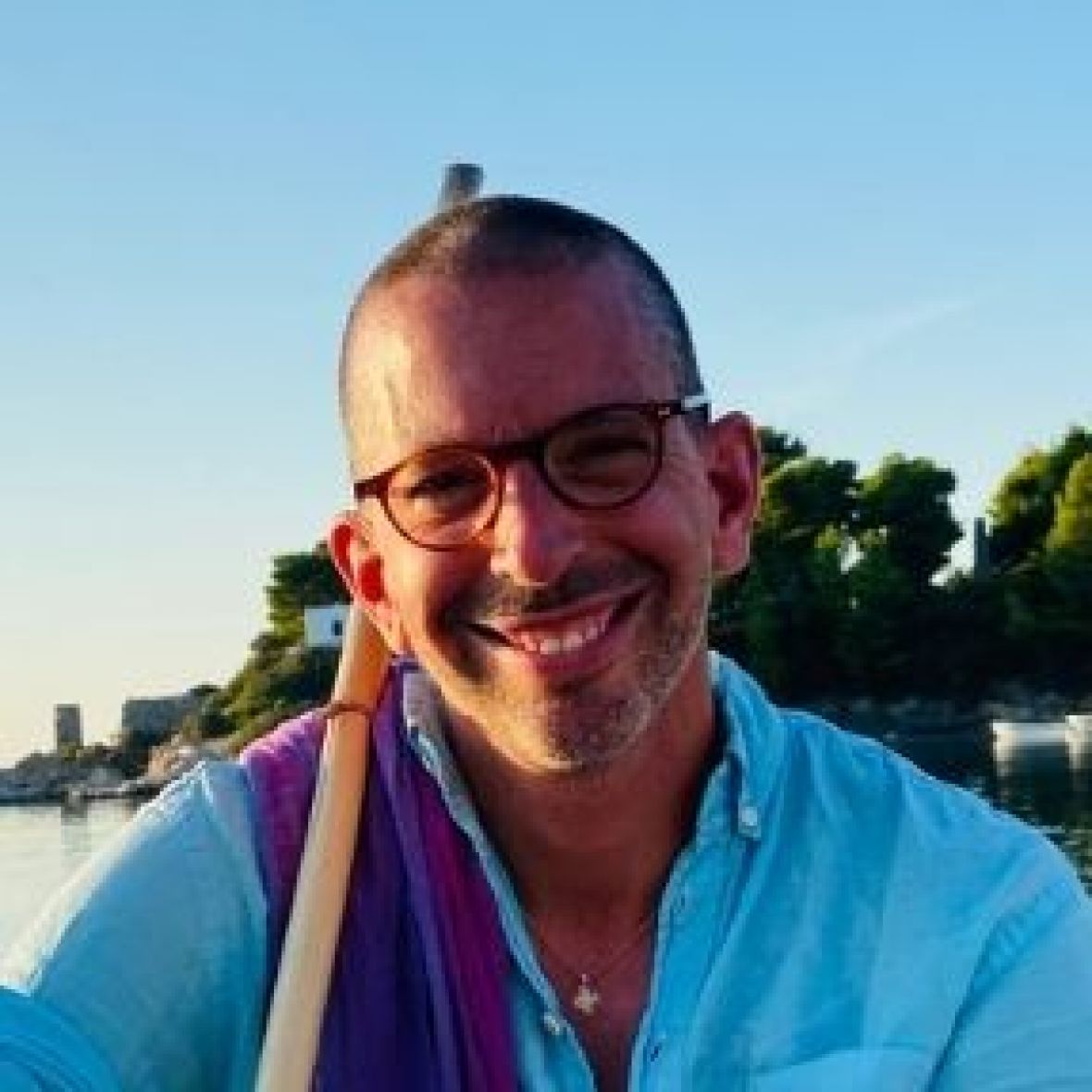 About Ignacio Lalanne
Ignacio grew up in Buenos Aires, Argentina. In early adulthood, he had the privilege of travelling and studying in India and south-east Asia. Journeys that accelerated his visual exploration of what is hidden inside all of us. It was also then that his art expanded into meditation and a deeper exploration of spirituality.
Over the years he settled in London, gained a degree in Fine Arts from Central Saint Martins, a world-famous arts college and part of University of the Arts London. He intensified his mindfulness practice, went on retreats and started volunteering and trained with Breathworks.
Ignacio is a practising artist and an accredited mindfulness teacher in the UK. You can find his studio in Bow Road, London. He also gives creative mindfulness courses in other venues such as Heatherley School of Fine Art. You can find him online at creativeawareness.art.
What people say about Ignacio and his courses:
Ignacio was kind, positive, enthusiastic and a great artist.
Very knowledgeable, a kind, good teacher. Empathetic.
Ignacio's beautiful spirit and passion shine through everything he does. It was a real privilege to be taught by him and I will be taking so much away with me. Thank you!
I loved Ignacio's approach - he is a passionate teacher and I could feel his compassionate energy towards me and the other students. Inspiring.
Ignacio is an absolute joy to behold. His thought, care, knowledge, manner, preparation and responsiveness are exceptional. Totally loved the course and my introduction to art and creativity which has always been a mystery.