Holiday Facilitators: Susie Self
skill, experience, warmth
Biography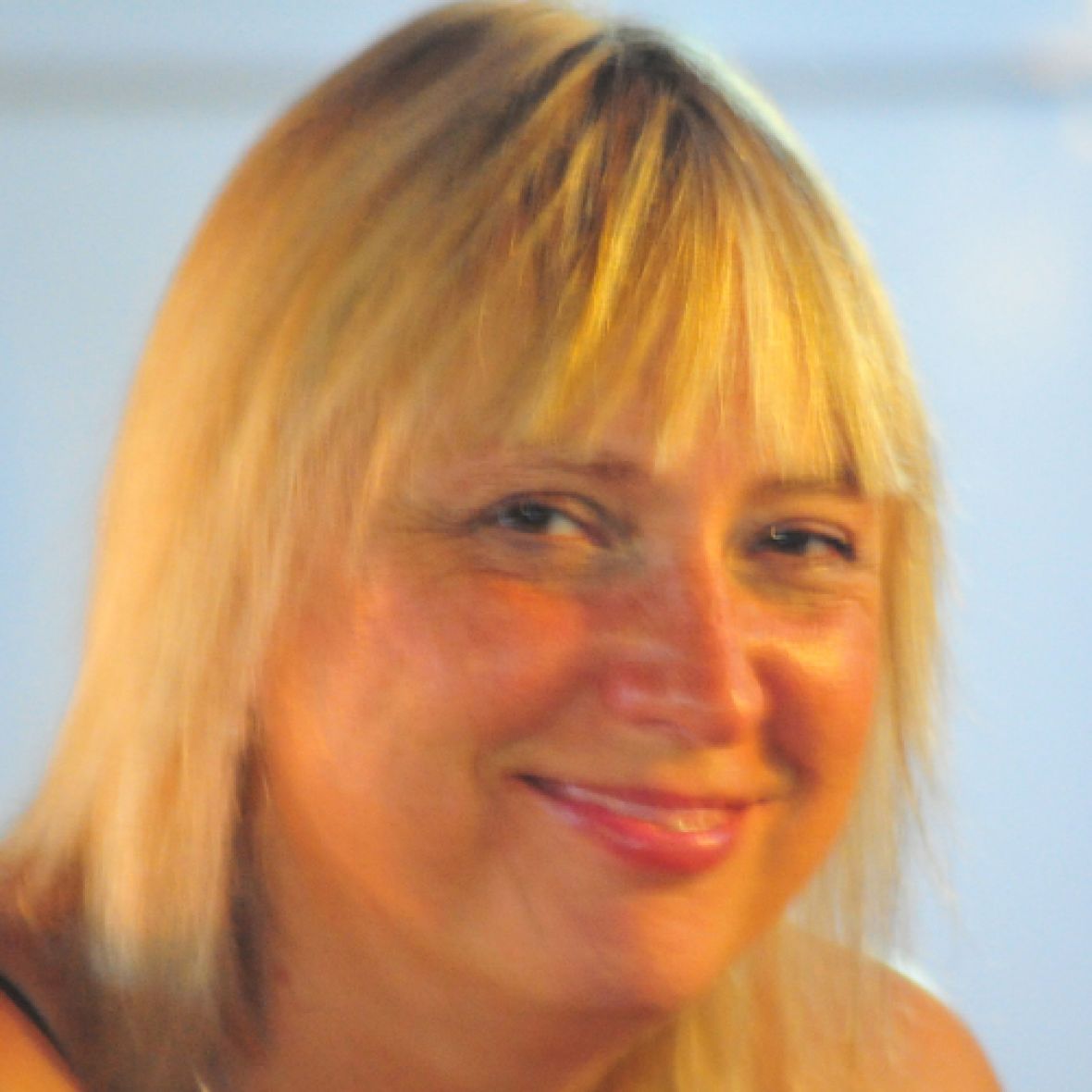 Susie Self ARCM MPhil Cantab is an International singer/composer. She has composed 4 symphonies 3 operas and 6 albums. She has just won a STEAM scholarship to read for a PhD in composition at Birmingham University.
Susie has sung solo in the West End and for the opera houses of Lyon, Luxembourg, Salzburg, Strasbourg, Antwerp and The Royal Opera, Covent Garden.
Which courses does Susie Self facilitate?
£1,345.00

Joyful Choir, Wild Swimming

Read more about this course

See other activities included

Joyful Choir, Wild Swimming

Unity Yoga

Sevanti's teaching style is flowing and meditative, inspired by many years as a Contemporary Dancer. She shares her love of yoga at a slow pace, integrating organic and natural movement with some stronger, more dynamic expressions. Breathwork is always an integral part of her sessions, which usually end with a deep Yoga Nidra relaxation.

Sevanti is passionate about ensuring the accessibility to yoga for all, by offering various modifications, props and adjustments to allow each practitioner to feel supported and relaxed enough to discover freedom and ease within the body. Sevanti also teaches children regularly and loves to work with families.

She often introduces Unity Partner Yoga into her sessions, to help deepen the postures and to feel extra support. Sevanti also likes to integrate various styles of massage and healing into her sessions too, to feel further nourished and cared for.

All levels of experience and ability are welcomed.

Sevanti

Sevanti has been teaching Yoga since 1996, running Retreats since 1998 and established her Yoga Teacher Training programme in 2002. This training runs annually, as does her Holistic Massage Diploma and various Post Graduate Diplomas in Yoga, Reiki and Unity Partner Yoga (which she created in 2002).

She has a well established studio in Brighton and is about to open 'The Brighton Centre' in Lewes, East Sussex.

Sevanti taught annually for Skyros (often directing) for 10 years previously and is very much looking forward to returning!

Watercolour Painting

Painting with watercolour, and sketching will be a main focus of the course. Michael will be helping participants to practise and master watercolour techniques, which will include exploring the creative opportunities that watercolour painting offers the beginner and improver ...trying new techniques, combining water based mediums such as gouache and acrylic and using complementary medium such as pastels. Through sketching this will give participants the chance to see and observe, practise techniques, and start paintings with a preliminary drawing.

Skyros is an artists paradise to work in given the light, whitewashed village, colourful flora, and panoramic views of turquoise seas and distant mountains. Michael is passionate about helping individuals develop their artistic skills at their own pace in a supportive and fun environment.

Michael Gahagan

Michael is an accomplished artist who paints with various medium particularly watercolour, pastels and acrylics. His subject matter for his paintings is wide and varied including landscapes, seascapes and wildlife. Much of his artistic inspiration comes from his overseas tutoring sessions in Europe including Greece, Spain and Italy. Painting and sketching the dramatic landscapes, seascapes and village life of the beautiful Greek Island of Skyros is an artist's dream.

In addition to his artistic background, Michael is also a qualified business and life coach and is passionate about supporting participants to explore their creativity through various approaches that encourage participants to develop artistic skills at their own pace. Above all Michael is keen that participants enjoy their holiday and that their painting experience is engaging, relaxing, enjoyable and fun!

Michael's painting style varies according to his subject matter. He strives to obtain a vibrancy of colour in his landscape paintings using a loose expressive approach; however he is also able to turn his artistic repertoire to detail and precision in his popular wildlife, animal paintings and portraits. His animal illustrations have appeared in numerous articles and books and samples of his artwork can be seen in his web site www.ionaart.com .

Michael gives participants the confidence to "have a go" or "brush up" on their existing artistic skills and his course is ideally suited to beginners as well as those with some experience. Participants can enjoy first class art tuition and demonstrations which are integral to them having a memorable and enjoyable holiday. Michael also hopes that participants return home from a great holiday with a renewed enthusiasm for painting and drawing!

Joyful Choir, Wild Swimming

Joyful Choir

A chance to sing heartily in an upbeat choir. Music ranges from Susie's own joyful music with "beat" backing tracks to Leonard Cohen's Hallelujah to Mozart. This is a great activity for freeing your soul's voice, connecting with others and filling you with wellbeing. No pervious singing experience is needed. The choir regularly sings in the sea and creates exciting flash mob events.

Wild Swimming

A stunning active daily meditation, swimming in a group at a steady pace. The sea at Atsitsa is warm and especially buoyant. Every day we will set out on a new adventure to magical destinations such as an island or under the cliffs. Susie incorporates her Subtle Sound Immersions to heighten the experience.

Susie Self

Susie Self ARCM MPhil Cantab is an International singer/composer. She has composed 4 symphonies 3 operas and 6 albums. She has just won a STEAM scholarship to read for a PhD in composition at Birmingham University.

Susie has sung solo in the West End and for the opera houses of Lyon, Luxembourg, Salzburg, Strasbourg, Antwerp and The Royal Opera, Covent Garden.

Windsurfing

Beginners: This course is aimed at complete beginners and covers the basic skills required to learn this exciting sport. The majority of the time is spent on the water. Windsurfing will help improve your coordination, flexibility and strength. The course will challenge you but the emphasis is on enjoyment. You will be encouraged to take intelligent risks and develop an awareness of your environment.

During most of the summer you will only need to wear swimwear, though we recommend that you bring your own wet shoes. At the beginning and end of the season it may be necessary to wear a shortie wetsuit, which will be provided. It is not necessary to be a strong swimmer or athletic to learn windsurfing. However, a basic level of mobility and some confidence in the water is required. Students may continue onto the Improvers class in the 2nd half of the session of a 2 week session.

Improvers: This is a series of drop in classes suitable for those with previous experience. An ability to sail away from the beach, turn around and sail back is the only minimum requirement. It is also open to those who took part in the Learn to Windsurf course during the first half of a 2 week session. Each class will take the form of a short clinic followed by on water practice. Continued coaching and feedback will be available or you can just practice without instruction.

Mark Gunston

Mark has been teaching Windsurfing for 30 years and is a qualified RYA Windsurfing Trainer. He managed a watersports centre in Cornwall for 6 years and during the late 1980s worked at a Windsurfing Club on the Sea of Galilee. He has taught at a variety of centres in England, Greece, Sardinia and San Francisco and is one of the UK's most experienced Windsurfing teachers.

In 1998 he established and managed a Fitness Centre in New Delhi. Mark qualified as an internationally licensed Ski Instructor in 2001 and has worked in Austria, France, Italy, Spain and Vermont as a Ski Instructor, Ski Guide and Resort Manager. He is also a certified Life Coach. Mark has been teaching in Atsitsa since 1996 and, realising a lifetime's ambition, completed a degree in Film Production and Screenwriting at the University of Chichester in 2017.

Trapeze

Deborah will enable you to learn some simple but beautiful trapeze moves tailored to individuals. Participants will be assisted to structure the moves into a simple routine. There will be an opportunity to try some partner work as well as solo static trapeze. It is challenging and fun. You will delight in your success and that of the rest of the group. The course is suitable for children and adults. The course is fine for absolute beginners but best suited to people with a basic level of fitness. However there will be an opportunity to have a go during a one off session which will cater for everybody.

The course will start with a warm up, then we will do some lovely trapeze moves followed by a lovely cool down.

Deborah Sanderson

Deborah has worked as a professional actress, director, and aerialist for 25 years. She has performed in both traditional and contemporary circus from Bosnia to the Caribbean. She runs a company that puts extraordinary performers into corporate events, Urban Angels Circus http://urbanangelscircus.com/

She is passionate about outdoor theatre, trapeze and other aerial skills. With a desire to create her own work which combines theatricality and aerial skills lead to the formation of Urban Angels in 2010, Urban Angels http://urbanangelsaerial.com/ which combines concept, theme or narrative with physically challenging work in the air. This work is interested in "What makes people tick". She also does a great deal of community and educational work through this new organisation.

Deborah is focusing on collaborating with other artists and creating work (whether in scale, it is intimate or epic) that relates to the space for which it is created. She used the opportunity to study at Masters level to create solo site specific pieces, Wing & a Prayer and Mariners Journey and a research project supported by the Arts & Humanities Research Council to look at performer/festival goer relationships at contemporary music festivals in Europe. She also provides rigging advice and tuition to other companies such as Phoenix Dance Theatres aerial dance piece, Melt.

Passionate Living

As children we marvel at the world around us, longing to be grown up and able to taste many gifts in life.

Somehow as adults we have learned to shut down and avoid our pain and struggle. Unfortunately and unknowingly, we also close down our passion and joy.

This workshop is designed to reawaken our appetite for the richness of life. Using a blend of psychotherapy, sensual techniques, dance, small group exercises, laughter and communication, we will explore and embrace our passionate selves.

Malcolm Stern

Malcolm Stern has worked as a group and individual psychotherapist for more than 20 years. He was a co-founder and is Co-Director of Alternatives at St James's Church in London and runs groups internationally.

He is the author of Falling in Love / Staying in Love (Piatkus 2004) and was co-presenter of Channel 4's relationship series 'Made for Each Other' in 2003 and 2004 and sailed on the 'Rainbow Warrior' with Greenpeace in the 1980s.

Visit his website here: malcolmstern.com

5-Rhythms, Meditation

5-Rhythms Dance

We are all born with the freedom to dance, but for many of us this freedom is buried under the demands of everyday life. 5 Rhythms dance is both a simple and profound medicine that gets us out of our heads and into our body and feet, offering a pathway to deeper self-awareness, acceptance, healing, creativity, sensuality, playfulness, openness and reconnection to our self and to each other. During this course we will learn to listen to trust and love our body more fully, surrendering bit by bit to its unique dance. We will discover our body loves to dance and most probably find ourselves making moves we never knew we could make.

Through the dance we release patterns and learn to transform undigested emotions into creative lighter energy. There will be space for sharing experiences, massage, writing, meditations, visualization, and laughter. A great sense of support and connection opens as we witness, and are touched by each other. What you bring will also weave with our journey and there may be time for some individual attention.

No previous dance experience is required.

Drop-In Courses and Activities

5 Rhythms Community Dance: a drop-in 5 Rhythms session has more of a focus on fun and play. It is a very community-building event and can have any number of themes depending on the needs at the time. e.g. it can be high energy and full on fun, or relaxing gentle and integrating. DJing that can get everyone boogying together.

Morning Movement and Meditation: We will greet the day by welcoming our body, breath and feelings with a period of dance movement followed by a guided mindfulness meditation. We will emerge refreshed and ready for the day! Mindfulness meditation is increasingly popular and especially good for stress reduction and helping you to relax more deeply into your body.

Jo Hardy

Jo is an accredited 5 Rhythms teacher offering classes, workshops and intensives in UK Internationally.

As a staff member of the School of Movement Medicine she provides in-depth embodied Life Coaching to students. For 25 years she was a psychotherapist, supervisor, group facilitator and trainer in a process oriented, mindfulness based approach.

Jo is known to teach with a grounded gentle clarity, good down to earth humour, heart inspiring music and an ability to invite a fine balance of safety and permissive freedom.

The Stories of Your Life

Always wanted to write your life story but didn't know where to start? This course will lead you in a series of fun and interesting life-writing tasks. From your earliest memories, those tales of your school days and siblings, pets and pursuits, through the rites of passage, work and marriage: you will be able to tell about the triumphs and the tragedies on your personal timeline, and see the whole story laid out as a screenwriter might plot the film or a novelist plan the book.

All the sights, sounds and smells of your childhood will be conjured up, while you play with the characters of your real-life friends or foes, and practise technical skills around writing in past and present tense, first or third person. Working in prose, poetry or script, whichever you prefer, we'll even explore where you got your name from, and experiment with ideas that may have come from dreams.

As well as meeting the muse of ancient Greece, our discussions will include possible avenues of publication and routes to readership, and Alison will be able to offer individual advice on your writing during the course. This creative writing class is likely to touch on memories which may be painful: you won't have to read aloud unless you are happy to. The activities are designed to be comfortable and enjoyable, and will allow you to produce first drafts of short stories, articles, poems or scripts; with the potential to develop a full-length memoir or semi-autobiographical novel based on the story of your life (so far).

Alison Habens

Alison Habens is the author of Dreamhouse, a 1990s cult novel based on Alice in Wonderland, which had its 'coming of age', a 21st birthday, with Lewis Carroll's 150th anniversary in 2015. But Alison has written pretty much every day since it was first published, with two further novels, Lifestory and Family Outing in print, and lots of short stories, articles, poems and plays to see on www.alisonhabens.com.

Her new novels are a quirky retelling of the St Veronica myth, The True Picture; and a postmodern rom-com, Pencilwood. (Visit www.thetruepicture.co.uk and www.pencilwood.com to find out where she got the ideas from…) Alison is course leader for Creative Writing at the University of Portsmouth, and has a PhD on the subject of 'divine inspiration' in literature. She runs a research project called 'Ink:Well' – Life-writing for Wellbeing. She lives in an old church on the Isle of Wight, with husband and three children/young adults, and commutes to work by hovercraft.

£425.00

Singing, Painting, Open Mic & More

Read more about this course

See other activities included

Singing, Painting, Open Mic & More

Singing, Painting, Open Mic & More

This Christmas break can only be booked over the phone. Please call us on 01983 867 644

• Health & Wellbeing, Comedy, Singing, Painting, Open Mic & more

This is a four-day celebration with courses, coastline walking, parties, games, fabulous food and the company of inspirational leaders and soon-to-be new friends. Christmas at The Grange this year is hosted by Susie Self and Andrew Risner, both of whom bring a wealth of skills, experience and fun to the event.

Susie Self will lead Joyful Choir, singing and creating a happy upbeat group. This is a great activity for freeing your voice, connecting with others and filling you with wellbeing. No previous singing experience is needed. She will also offer a Open Mic activity and so bring a song, sheet music, a poem or a story.

Susie will also offer Mandala Painting, a great way to relax and release your creativity. During the class Susie will also offer you an experience of her Subtle Sound Immersions. Susie makes painting fun, easy and rewarding. No painting experience is needed and all materials are included.

Together, with Andrew, these great hosts will lay the foundations for a Christmas you will truly enjoy!

Bring a present up to the value of £10 to exchange on Christmas morning.

Christmas Eve

From 4pm Arrivals

7.30pm Dinner & Welcome

Christmas Day

8am to 10am Breakfast

10:30 to 12:30pm Course Time

2pm Christmas Lunch

5pm to 7pm Course Time

8pm onwards Dinner followed by Evening Activities

Boxing Day

8am to 10am Breakfast

10:30 to 12:30pm Course Time

1pm Boxing Day Lunch

2.30pm Afternoon Activities

8pm onwards Dinner followed by Evening Activities

Tuesday 27th

8am to 10am Breakfast

10:30 to 12:30pm Course Time & Farewells

1pm Lunch followed by departures

Susie Self

Susie Self ARCM MPhil Cantab is an International singer/composer. She has composed 4 symphonies 3 operas and 6 albums. She has just won a STEAM scholarship to read for a PhD in composition at Birmingham University.

Susie has sung solo in the West End and for the opera houses of Lyon, Luxembourg, Salzburg, Strasbourg, Antwerp and The Royal Opera, Covent Garden.

Your Best Year Ever

Your Best Year Ever

With a warm heart and a twinkle in his eye, Andrew will guide you through multi sensory processes and games to help facilitate you to determine how and what your Best Year Ever will look and feel like.

Then, layer upon layer, he will work together with you to literally transform you into the person who can confidently create, pursue, and maximize those dreams. You will leave with a clear picture of what your best year ever will look like together with tools and strategies of how to implement it once at home.

A complimentary coaching session will be available after the course for anyone completing the workshop.

Comedy Improvisation

Anyone can improvise if they allow themselves to play. Improvisation IS NOT about being the smartest, being the funniest or being right. It is about accessing the creativity that already exists within us.

During this course we will learn how to have fun simply by following a few basic techniques that allow anybody to let go and have fun.

Improvisation is an attitude, a way of behaving that allows one person, or a group of people, to innovate and create instantly by using their own sense of trust, truth, acceptance and creativity. Anyone can improvise if they allow themselves to play. Improvisation IS NOT about being the smartest, being the funniest or being right. It is about accessing the creativity that already exists within all of us.

Andrew Risner

Andrew Risner is a leading trainer, facilitator and coach who has been leading transformational workshops since 2001. He is an as empathic and sensitive facilitator who is able to create and maintain an atmosphere of trust and respect and brings a wealth of fun and insight to his workshops. His programmes help individuals fully realise the dormant resources within themselves, whilst helping them raise self-awareness and self-belief.

As well as being an NLP Master Practitioner and certified hypnotherapist, Andrew spent time as a member of the magic circle and stand up comedian.