The Skyros Blog
reflect, comment, share
Skyros now offers 2020 UK staycations
Monday 31st August 2020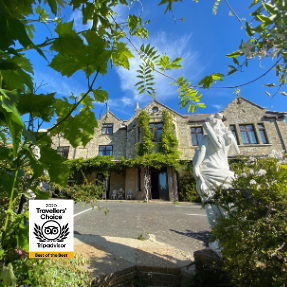 Skyros holidays now offers 2020 UK staycations
Skyros holidays is delighted to present a series of week-long holidays at The Grange by the Sea, Skyros HQ in the Isle of Wight. This is an ideal 2020 UK staycation, especially for solo travellers, where you can be sure of a warm welcome and know that all measures have been taken to meet government guidelines, ensuring that you have a safe and enjoyable holiday.
After months of lockdown, escaping across the Solent to a lush, green island in the south of the UK boasting the most hours of sunshine in the UK, does sound very appealing. Add to this the opportunity to meet likeminded people - albeit socially-distanced - and the chance to explore your creativity, rethink life's priorities and explore nature and coastline walks. Enjoy Shanklin's long sandy beach and take a dip. It's warm enough now.
Choose your masterclass each week and also enjoy afternoon drop-in classes. Options include yoga, writing, mindfulness, painting, comedy, creativity and more.
Facilitators are exceptional comedy writers, singers, authors, artists, therapists and yoga teachers including:
Comedy writers Tony Hawks, Logan Murray, Kate Smurthwaite and Arthur Smith, yoga teachers Ken Eyerman and Marina White Raven, singers Sarah Warwick, Luke Meredith and Susie Self, artists Ignacio Lalanne and Michael Gahagan, colour therapist Theresa Sundt and mosaicist Roz Wates, authors Monique Roffey, Steve Attridge and Amanda Smyth and and so many more outstanding professionals. See more below...
All meals are included and lunch and dinner is prepared by Spanish chef Alfonsa Nevado-Barras, in keeping with the Skyros tradition of providing Mediterranean meals in Greece.
Take a look at what's on here:
AUGUST
Mon 10 Aug - Fri 14 Aug 2020. 'Unlock Your Wonderful Life' with Andrew Risner or 'Walk and Talk Wilderness' with Julia Gillick. Read more >>
Mon 17 Aug - Fri 21 Aug 2020. 'Mindfulness Through Art' with Ignacio Lalanne or 'Living Maps' with John Harris. The house is now FULL. However, call us if you want to stay locally and join us for courses and meals. Read more >>
Mon 24 Aug - Fri 28 Aug 2020. 'Comedy and Creativity' with Logan Murray or 'The Creative Heart' with Sarah Warwick. Read more >>
SEPTEMBER
Mon 31 Aug - Fri 4 Sep 2020. 'Humorous Writing' with Tony Hawks or 'Radiant Energy Yoga' with Marina White Raven. Read more >>
Mon 7 Sep - Fri 11 Sep 2020. 'Your Story' with Monique Roffey or 'Yoga with Awareness' with Ken Eyerman. Read more >>
Mon 14 Sep - Fri 18 Sep 2020. 'Walking to Ignite Your Creative Spark' with Susie Self or 'Mindfulness' with Michael Eales. Read more >>
Mon 21 Sep - Fri 25 Sep 2020. 'Creating Laughter' with Arthur Smith or 'Weaving by the Sea' with Theresa Sundt. Read more >>
OCTOBER
Mon 28 Sep - Fri 2 Oct 2020. 'Taking Watercolour Painting Further' with Michael Gahagan or 'Digging Deep' with Amanda Smyth. Read more >>
Fri 2 Oct - Sun 4 Oct 2020. 'Adventures in Comedy Writing' with Logan Murray. Read more >>
Mon 5 Oct - Fri 9 Oct 2020. 'Weaving by the Sea' with Theresa Sundt or 'Thriving in Transition' with Julian Russell. Read more >>
Mon 12 Oct - Fri 16 Oct 2020. 'Joke Writing' with Kate Smurthwaite or 'The Song and You' with Luke Meredith. Read more >>
Fri 16 Oct - Sun 18 Oct 2020. 'Life Writing' with Nick Barlay. Read more >>
Mon 19 Oct - Fri 23 Oct 2020. 'Mindfulness Through Art' with Ignacio Lalanne or 'Walk and Talk Wilderness' with Julia Gillick. Read more >>
Mon 26 Oct - Fri 30 Oct 2020. 'Creating Laughter' with Arthur Smith or 'Making Mosaics' with Roz Wates. Read more >>
NOVEMBER
Mon 2 Nov - Fri 6 Nov 2020. 'Slay Your Dragons with Compassion' with Malcolm Stern or 'The Heart of Your Story' with Lisa O'Donnell. Read more >>
Mon 9 Nov - Fri 13 Nov 2020. 'Yoga with Awareness' with Ken Eyerman or 'Life Writing and Fiction' with Steve Attridge. Read more >>
The full list of Skyros-in-the-UK holidays can be found here: