Holiday Facilitators: Ken Eyerman
skill, experience, warmth
Biography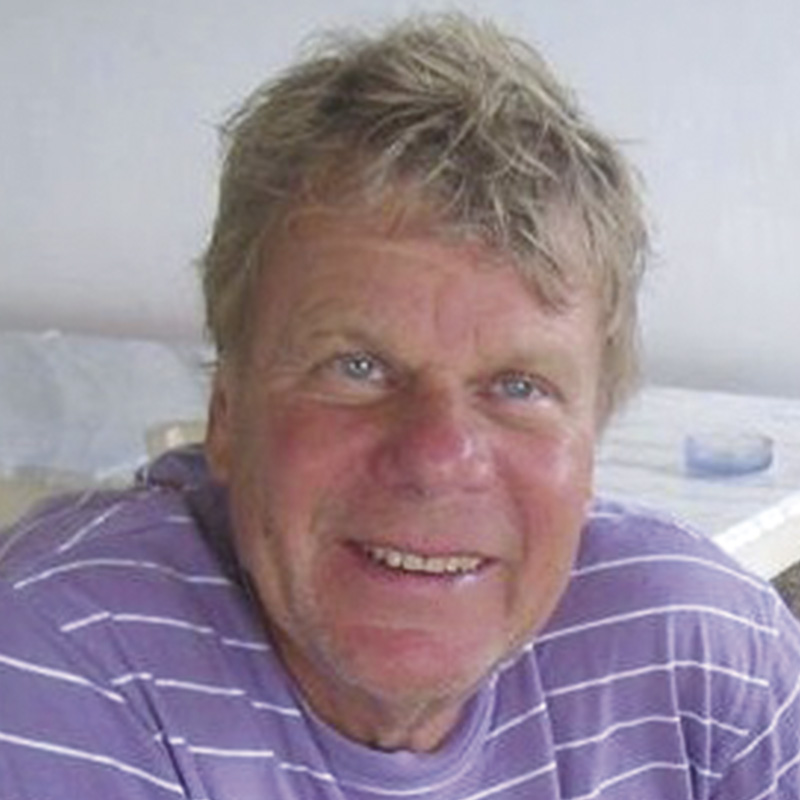 With over thirty five years experience, Ken is an American who has worked as a movement therapist, having studied dance and psychology. Previously he worked at the London Contemporary Dance School as bodyworker in residence.
Ken is trained in The Feldenkrais Method, Awareness Through Movement and has a busy private practice at Natureworks/ Danceworks in London. As well as regular yoga workshops, Ken offers his Yoga with Awareness holidays internationally and returns to Skyros for his 25th season!
He is the author of an inspirational book, Massage and was named as one of the Londons top three masseurs by the Evening Standard. The Ken Eyerman School of Bodywork and Movement is affiliated to the Institute of Complementary Medicine.
What people say about Ken and his courses:
So, so good. Passionate and inspiring.
Yoga Superb, top class, EXCELLENT.
I took Ken's yoga. I found it superb. I do a lot of different bodywork and Ken's approach is thoughtful, insightful, tailored to the group with attention to individuals, funny and inspiring. I'll be using some of his techniques in my own work.
Where does Ken Eyerman facilitate?
Fri 1 Nov - Sun 3 Nov 2019 (2 nights)
At a glance
Yoga with Awareness Weekend with Ken Eyerman
In a focused and yet playful way, experience how Ken integrates Yoga with Feldenkrais.
These yoga classes and moving meditation sessions are suitable for all levels, including complete beginners and those who have injuries or are restricted in their movement. The intuitive and spontaneous hands-on approach emphasizes the benefits of using your breath and developing an awareness of your inner process.
Participants will learn to use their bodies with intelligence, awareness and efficiency. The Eyerman Technique will ease you into new postures while encouraging you to explore movement in a way that is both developmental and restorative.
Ken seeks to work with you, by developing core movement, and helping you tune into the constant flow of life energy essential to maintaining health and clarity of mind.
This course is reserved for those who also book two nights accommodation at The Grange, Isle of Wight.
About
Skyros attracts mostly solo travellers from all over the world. Although all ages are represented, approximately 70% are between 35 and 65. The Grange is a stunning Georgian country house, surrounded by greenery and close to Shanklin's sandy beach, cosy pubs and restaurants and the local train station.
Accommodation
Choose to stay at The Grange in a twin shared or single occupancy room on a B&B basis or simply take part in the course if you live locally.
Inspiring Courses
Your course weekend includes six hours of tuition across two days. This leaves plenty of time to explore the island on coastline walks or enjoy health and beauty treatments (book these in advance).
Food & Drink
Join us for the three course Friday night dinner, tailored to dietary requirements, for £20. If you choose to stay with us breakfast is included. On Saturday, guests tend to like to eat out together locally. A light lunch is provided on Sunday.
Guide Itinerary
Friday
16.00: Arrivals
19.30: Dinner (if booked)
21.00: Welcome
Saturday
08.00 to 10.00: Breakfast
10.30 to 12.30: Course
17.00 to 19.00: Course
Sunday
08.00 to 10.00: Breakfast
10.30 to 12.30: Course
13.00: Lunch​
Average Temperature
As with much of the UK weather is changeable - although the Isle of Wight does boast a micro-climate and is one of the sunniest places to visit. Fingers crossed for good weather!
Location
Summary
What's included?
Six hours of course time across two days

A light lunch on Sunday

Accommodation is chosen separately

Dinner on Friday evening is £20
Travel
Book a return rail ticket to Shanklin via Portsmouth and your ticket will include crossing the Solent by FastCat. At Shanlin station, take a cab for the 3-minute journey to The Grange in Eastcliff Road.
If you decide to drive then book your crossing online with Wightlink or Red Funnel Ferries. Call to check in case of discount codes.